People often ask me, "Margaret, who is your favorite composer?"
That is an impossible question to answer, but if I had to boil it down to one person it would be Franz Liszt.
My obsession with Liszt (yes, it's a real thing…and many people have it. It's been laughingly dubbed, 'Lisztomania') started when I was a teenager.
Was it his dashing good looks? His mysterious personality that came through in letters- a contrast of earthy romantic man with an untouchable lofty spirituality? The fact that when people heard Liszt's play they fainted from the effect of his artistry and overall persona. 
Yes to all….
While, I'm at it, I might as well tell you everything:
True confession: 
As a student I spent 2 months working as a nanny to save up the

 

$60 needed to purchase Ernest Burger's hard covered

 

book "Liszt- A Life in Pictures"…
I tried to re-create Liszt's living room in Weimar from 1880 in my modest NYC studio apartment in the 1990's by buying striped fabric to match the curtains of Liszt's room

 

…
The most cringe-worthy confession of all is that I spent so

 

much time on my honeymoon in Budapest at the Liszt Museum, breathlessly taking in all of Liszt's personal letters, gloves, pianos, cigar boxes…etc.

 

that my long-suffering husband Mark nearly left me there permanently!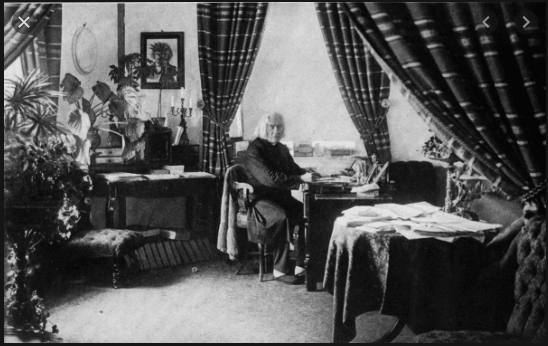 Liszt was the reason I became a pianist and it wasn't just because of his piano playing, great compositions and romantic genius.
It was because he had something special:
A flame…
The kind of flame that infused those he came across and left them changed.
Alexander Siloti, a student of Liszt said that when he met him for the first time it was as if he was "looking at the sun."
The one story about Liszt that made me want to devote my life to music was what happened when he visited hospitals.
Although he was famous and drummed up a matinee-idol type frenzy wherever he went, Liszt had a deep spirituality stemming from his Christian roots. 
He believed in the service of others and used his music towards that end. He called it 'noblesse oblige'. 
"To those much is given, much will be required." (Luke 12:48)
And he was a giver.
One story recalls him visiting a hospital for mentally disabled patients. There was one patient in particular who had a disorder where for years she would unceasingly beat her head against a wall. 
But when Liszt sat down to play…something happened. 
The atmosphere changed. Galvanized. Peace entered the room. The harmonies plastered the jagged edges of emotional brokenness… People's hearts changed…Brain waves harmonied…
And the patient stopped beating her head against the wall. 
As she listened.
Doctors said they had never seen anything like this. Instant breakthrough.
When I read that story at age sixteen, I had an innate realization of the healing power of music.
Now that I am older, I realize that WE ARE THE MUSIC. WE ARE THE FLAME.
And we can bring that healing power wherever we go, simply through our intention that comes from stillness and connection with the Source.
I wrote a piece as a homage to my favorite composer called Flame of Love.
As you listen I hope it will fill your heart with peace and remind you of the FLAME that BURNS BRIGHT INSIDE YOU. 
Please share it with your friends as the light that gets passed on never dies.
How can we be a light to others? Is there an experience you have had where situations changed as a result of you or someone else? If so, what happened? Let's share and inspire each other in the comments below: